Really??? Lower Gas Prices...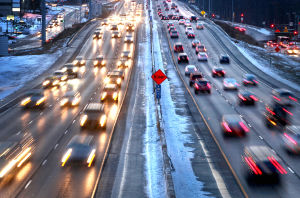 Wisconsin roads should be dry Wednesday for the start of the Thanksgiving weekend, but there will be fewer travelers despite lower gas prices compared to a year ago, according to officials.
The statewide average for regular self-service gasoline was $3.16 on Monday, 25 cents less than the $3.41 average at Thanksgiving in 2012, according to AAA Wisconsin. However, like Memorial Day and the July Fourth holiday, the number of travelers is expected to be down by more than 1 percent when compared to the previous year, said Gail Weinholzer, a AAA Wisconsin spokeswoman.
"They're just not that confident in the economy," Weinholzer said. "They're playing it a bit more conservatively around the holidays."
Nationally, AAA estimates that 43.4 million people will travel over the Thanksgiving weekend with 90 percent of those travelers, or 38.9 million people, traveling by automobile. In Wisconsin, more than 873,000 people are expected to travel, a 1.5 percent decrease compared to last year, according to the AAA forecast. Of those, nearly 785,000 people plan to travel by auto and about 63,000 by air. The remainder will go by rail, bus or ship, Weinholzer said.
Wednesday will be the busiest single day of travel with 37 percent of travelers departing for trips. However, Wisconsin roadways buck the national trend on Sunday. That day marks the end of the nine-day gun-deer season and will result in thousands of hunters returning home from the woods mixed with other holiday travelers.
One of the biggest congestion points will be southbound on Interstate 39-90-94 near the Dane/Columbia county line. Capt. Chuck Teasdale of the Wisconsin State Patrol's southwest region office in DeForest said if motorists can take alternate routes home they can avoid slowdowns Sunday but admits that options can be limited for many travelers.
"It's really just sheer volumes," Teasdale said. "We'll work really diligently for advance warning if there are incidents."
He advised motorists to check the state's website, www.511wi.gov, for traffic alerts and changing weather conditions that could affect traffic. The State Patrol also uses a "quick clearance" system to remove crashes as quickly as possible out of the path of traffic and uses electronic message boards along the Interstate system to let motorists know about problems ahead.
Ed Townsend, a National Weather Service meteorologist based in Sullivan, said travelers on Wednesday, Thursday and Friday will be greeted with high temperatures that are below normal in the mid-20s and lows in the teens. There is only a slight chance of snow on Saturday and Sunday.
"We'll have good travel conditions for Thanksgiving," Townsend said.
That won't be the case for many travelers in the eastern part of the country. A winter storm system is blamed for at least 12 fatal accidents in the West, in Texas and two in Dane County and is pushing east.
Nearly 300 American Airlines and American Eagle flights were canceled in and out of Dallas-Fort Worth International Airport on Monday because of the weather, and some of the country's busiest airports — in New York, Washington, D.C., Philadelphia, Boston and Charlotte, N.C. — could see significant delays.
At the Dane County Regional Airport, where an estimated 2,500 travelers were scheduled to depart on Wednesday, no delays had been announced as of late Monday, said Brent McHenry, an airport spokesman. He expects Wednesday to be like a Monday, which is typically busy with business travelers, only Wednesday's customers will be traveling for the holiday.
The airport will offer TSA pre-check for qualified travelers and a second security checkpoint will be open from 4:30 a.m. to 7:30 a.m. and 2 p.m. to 4 p.m.
"It's business as usual for us, and we're not expecting any challenges or concerns," McHenry said. "We anticipate all day Wednesday to be busy with holiday travel. Thursday morning will be busy with a lighter afternoon as many airlines have reduced schedules."
Read more:
http://host.madison.com/news/local/fewer-travelers-and-lower-gas-prices-for-thanksgiving/article_3eeeeca7-f485-543e-a04f-5227d1094921.html#ixzz2llqb8esB
Brought to you by: